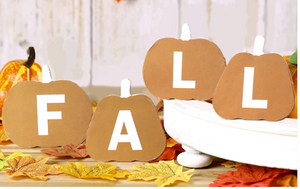 4 Wooden FALL Pumpkins
ATTRACTIVE FALL PUMPKIN DECORATION: DECORKEY 4-Pack pumpkin shaped wooden tabletop decor are printed in golden with the white letter "F" "A" "L" "L".The pumpkins are in 2 different shapes, which will add unique charm to your harvest home. The seasonal color of the wooden pumpkin sign will definitely catch the attention of your guests and coordinate with your autumn thanksgiving theme party.

ECO-FRIENDLY MATERIAL: Our freestanding pumpkin blocks are made of 100% reclaimed and weathered wood, characterized with non-toxicity and durability. The polished surface ensures that you will never worry about the burrs or sawdust hurting your hands. The protective coating with weather resistance and fade resistance makes the blocks can be set outside.

PERFECT FALL ADDITION FOR ANYROOMS: The thickness of each pumpkin shaped block is approx 1 inch (2.54cm), which can effectively reduce the drop caused by collision in daily use. This rustic table art aptly complements the harvest atmosphere for your house. Perfect for sitting on the bench out on the front porch, office display, table, fireplace, patio, yard, garden and many other areas of your home, celebrating the magic of autumn.